ART DECO VINTAGE JEWELLERY PAGE 2 (see my other vintage jewellery page 3)
| | | |
| --- | --- | --- |
| | PLEASE NOTE: when paying by Paypal there will be an extra 4% charge as implemented by Paypal | |
| | | |
PLEASE NOTE : I can take, the following cards, (in person only, but not via the telephone)
There will be a 2.75% charge for this service.
Modernist Necklace by Bengel
Ref: JE1378 . . . £195
Very nice, statement piece
Lime and blue galalith necklace made by
Jakob Bengel in the early 1930's.
It measures approx 18 inches (46cm) from
clasp to clasp. Condition is
very good as new/old stock.
Chunky Necklace
Ref: NAD3 . . . £195 SOLD
Stunning , chunky necklace on a black, large link chain with large varied shaped pieces of bakelite/celluloid
in rich reds, yellows, greens, browns and grey.
Overall chain size is 18 inches with a large 3 inch red drop of bakelite at the centre.
Makes a great fashion statement.
Large Diamond Shape Brooch
Ref: BAD1 . . . £85
Nice old 1940's brooch in
very strong colors.
Measures 3.75 inches wide x 1.5 inches deep.
A nice large size brooch.
Looks really striking on a jacket.
Makes a nice finishing touch.
Vogue Clip on Earrings
Ref: EAR1 . . . £65
Large chunky bakelite earrings with red diamond shape pieces 1.25 inches with large brown
diamond pieces 2 inches deep and smaller dark green diamond shapes on top. Drop 2 inches.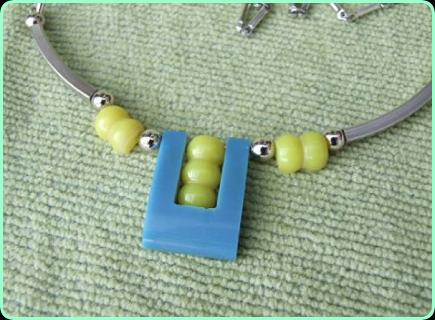 American phenolic shapes necklace. Measures 18.5 inches long (47cm) from clasp to clasp. The clasp is a replacement. the central ovular disc measures 2.25 inches (5.5cm) high. Vintage condition and used but good.
Discs Necklace
Ref: JE4034 . . . £165
Ornate Choker Necklace
Ref: NAD1 . . . £175
The marbled bright cherry red bakelite focal piece measures 1.5 inches x 1.5 inches Measures 16 inches from clasp to clasp, on a large link chain. Over all condition of this eye catching and piece is excellent.

www.artdecor-designs.co.uk info@artdecor-designs.co.uk
Based in West Wickham, Kent. U.K. Telephone: 020 8462 1323 Mobile: 07889 606283 International Tel: +44 20 8462 1323
Unique vintage Art Deco jewellery, necklaces, earrings, vintage compacts,

PLUS, A NEW RANGE OF ART DECO DESIGNER WALLPAPER!
We ship worldwide and accept U.K. cheques, cash. bank transfer and Paypal
Postal costs are extra, contact me for a personal quote.
Website design by Jean Enness (Art Decor Designs)
Copyright © 2012 Art Decor Designs