| | | |
| --- | --- | --- |
| | PLEASE NOTE: when paying by Paypal there will be an extra 4% charge as implemented by Paypal | |
| | | |
PLEASE NOTE : I can take, the following cards, (in person only, but not via the telephone)
There will be a 2.75% charge for this service.
DESIGNER JEWELLERY PAGE 1 (see my other designer jewellery pages 2-8)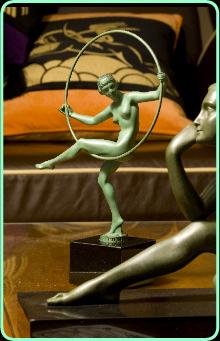 Large Glass Earrings
Ref: E26 . . . £20
These earrings have large , bright glass pear shape drops
1.75 inches in depth.
Total depth of earrings is
3.25 inches.
These earrings look stunning.
Unusual Unique Designer Necklace
Ref: N2 . . . £45
Pretty choker necklace,
fantastic, pretty pale pink beads and seed beads,
finished with a large shell centre piece.
Three rows , with beadsrunning into the centre pieceGreat finishing touch with that spring and summer outfit.
Total length of necklace clasp to clasp is 14 inches.
Designer Necklace
Ref: N5 . . . £55
Purple colors, made of glass and plastic beads with a clear glass chandelier and flowers drop centre piece. Total length of necklace clasp to clasp is 18 inches.
Centre piece is 4 inches long.
Unique Designer Necklace
Ref: N1 . . . £50
Made from black and pewter beads and silver colored beads with pretty pearl chain. The center piece is a large flower with a pretty pearl beaded center. The pearl chain hanging from the flower is an extra 3 inches long.
One of my one-off designs
Total length of necklace is 15 inches.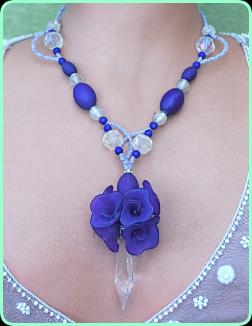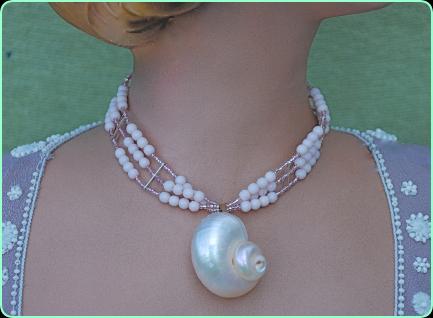 Pretty in Pink Earrings
Ref: E6 . . . £20
Stylish earrings which
also match the necklace /right
Ref: N6. Made up of glass
and acrylic beads
The earring drop
length is 1.75 inches

Stylish one off Designer Necklace
Ref: N6 . . . £50
A real statement necklace and really eye catching.
Made up of pink colors, this necklace is made of glass and plastic cherries and leaves beads with a two and a half inch drop centre piece. The centre piece also has silver glitter roundels Total length of necklace clasp to clasp is 16 inches. (I also have the matching earrings, see left, Ref: E6)
www.artdecor-designs.co.uk info@artdecor-designs.co.uk
Based in West Wickham, Kent. U.K. Telephone: 020 8462 1323 Mobile: 07889 606283 International Tel: +44 20 8462 1323
Online hand crafted designer jewellery, original, handmade jewellery, statement necklces, earrings,
PLUS, A NEW RANGE OF ART DECO DESIGNER WALLPAPER!
We ship worldwide and accept U.K. cheques, cash. bank transfer and Paypal
Postal costs are extra, contact me for a personal quote.
Website design by Jean Enness (Art Decor Designs)
Copyright © 2012 Art Decor Designs